Laskettelu ja lautailu
Köykkyrin hiihtokeskus on Suomen pienin laskettelukeskus. Köykkyrin mäki rakennettiin lähes 20 vuotta sitten ohitustien täyttömaan avulla. Köykkyrin hiihtokeskus pyörii Kempeleen Pyrinnön ja Kempeleen kunnan yhteistyöllä.
Keskuksessa on valaistu päärinne, snowpark, alamäkirata ja sompahissi. Köykkyrin laskettelukeskus on suunnattu aloitteleville lumilautailijoille ja laskettelijoille. Valaistun rinteen korkeus on 25 metriä ja pituus 135 metriä. Köykkyriä ympäröi maastohiihtokeskus, latuverkosto ja maastoulkoilualue reitteineen.
Kempeleen Pyrinnön urheilutalolla toimii talvisin kahvila sekä hissilippujen myynti.
Hiihtokeskuksen osoite:
Pyrinnöntie 5, Kempele
Hiihto
Köykkyri on Kempeleen hiihdon ja laskettelun keskus. Alueelta lähtee 12 km valaistu latuverkosto ja Köykkyrin ytimessä on yksi valaistu laskettelurinne (135m) sekä snowpark ja tilava pysäköintialue. Kempeleen Pyrinnön urheilutalolla toimii talvisin kahvila sekä hissilippujen myynti.
Suosittuja hiihtokohteita ovat esimerkiksi käynti Marjakammilla tai pidempää matkaa kaipaavalle Pertin lenkki.
Sarkkirannan urheilukeskuksen alueella on valaistuna kuntoradan hiihtolatu, joka sopii hyvin lyhyempää matkaa hiihtävälle.
Moottorikelkkailu
Kempeleestä tavoitat kätevästi Oulun alueen monipuolisen kelkkareitistön ja talviretkeilykohteet. Voit käydä esimerkiksi parin tunnin reissun Marjakammin laavulla tai tehdä päiväretken Rokualle.
Voit lähteä reitistölle joko omalla kelkalla tai vuokrata kelkan Kelkkasataman vuokraamosta. Vuokraamolta pääset suoraan kelkkareiteille ja kelkkavuokraan kuuluu aina myös ajovarusteet.
Kelkkasataman yhteystiedot:
Pohjantie 1457, Kempele
p. 045 7877 5413
Mountain biking and fatbike rentals
Birdwatching and activities for your meetings
Finlandia Hotel Airport Oulu is located by the sea in beautiful nature and waters rich in birds. The hotel customers can enjoy the nature, and you can enrich your meetings, birthday parties, stag or bachelorette parties with guided nature activities.
Try birdwatching competitions or traditional Finnish sports, playfully of course.

Learn more and refresh your party with fun activities!
Contact:
Vihiluoto 10, Kempele
Phone: +358 (0)8 514 5100
sales(at)airporthotel.fi
Activities for wellbeing at work or for celebration
Easymove produces versatile activities for wellbeing at work, for recreation days, and for groups celebrating birthdays, stag or bachelorette parties. You have a wide choice of activities, from exercising in nature to body composition analyses, from indoor sports to party nights. Full service!
Contact Easymove and check out the packages. On the Easymove website you can also find price examples of various programs for groups of 10 persons.

Experience the best moments of your life!
Contact:
Pekurintie 2, Zemppi House, Kempele
Phone: +358 (0)50 472 2714
yritykset(at)easymove.fi
Marjakammi - retkikohde
Lähde retkelle upeaan Kempeleen luontoon! Marjakammin kodassa ja laavulla voit tehdä tulet ja evästellä. Marjakammille voit kävellä, maastopyöräillä tai hiihtää. Latuverkoston laduista Pertin lenkki kulkee Marjakammin kautta.
Reittiä Marjakammille ei ole vielä merkitty maastoon.
Marjakammi on merkitty karttoihin laavu.org ja retkikartta.fi -sivustoille. Kirjoita retkikartta.fi:n kohteiden hakuun "Marjakammi", niin löydät perille. Nuotiopaikan huollosta vastaa Kempeleen kunta.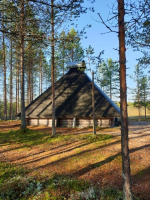 Alpakkatalutukset
Linnunradan tila Kempeleen Juurussuolla kasvattaa alpakoita ihanassa maalaismaisemassa Mourunkijärven lähistöllä. Linnunradan tila viljelee myös öljyhamppua Tyrnävällä, josta tehtyjä elintarvikkeita ja luonnollista kosmetiikkaa on myynnissä tilalla.
Linnunradan tila toimii ympärivuotisesti ja tarjoaa ryhmille tilauksesta alpakkatalutuksia sekä kahvituksia tai hamppusmoothie-välipaloja. Kesäisin voi kokeilla myös alpakka-agilitya.
Tilalla järjestetään myös erilaisia tapahtumia, kuten joogaa kesäisin. Alpakat ovat myös tuttuja vieraita erilaisilla markkinoilla ja niitä voi kysyä omaan tapahtumaan tilan omistajalta.
Tervetuloa ihastumaan alpakoihin!
Yhteystiedot:
Mourungintie 217
p.040-8314845
info(at)linnunradantila.fi
Riding
Rajakorpi Ranch offers training courses based on the ideology of Western riding, riding lessons, camps and courses. The ranch is in Rajakorpi in Kempele.
The Rajakorpi Ranch has renovated ample space for accommodation, the stables have room for 26 horses, there is riding field, riding ring and a manege. The ranch also provides a place to spend the night if you are travelling with your horse.

Welcome to explore the world of Western riding!
Contact:
Rajakorventie 203, Kempele
Phone: +358 (0)40 571 2516
anna.porola(at)gmail.com
Disc golf and Köykkyri Disc Golf Park
You can play disc golf in Kempele in the Köykkyri Disc Golf Park and in Vihiluoto. The popular 18-hole course is designed for both beginners and competitive players. The terrain is undulating forest with some elevation. In Köykkyri, there are good parking spaces and the area has also jogging paths and the longest stair-climbing stairway in the Oulu region. The cafeteria is not open in summer, but within a 1.5-kilometre radius you can all the services of Shopping Centre Zeppelin among others. In winter, the ski resort serves customers.

Address: Pyrinnöntie 5, Kempele

In Vihiluoto, there is a 7-hole disc golf course built by the village association, you can access it from the green area at the tip of Vihiluoto islet. In the marina, there is plenty of parking space. Vihiluodon Torppa and Finlandia Hotel Airport Oulu provide good services. There is also a swimming beach in Vihiluoto.

Address: Torpankuja 16, Kempele
MOBO-suunnistus ja geokätköily
Kempeleessä voit harrastaa MOBO-suunnistusta, radat löytyvät Sarkkirannan ja Köykkyrin liikunta-alueilta.
MOBO on kiintorastien nykyaikainen versio ja se toimii Windows Phone, Android ja iPhone-puhelimilla.
MOBO-suunnistus aloitetaan avaamalla MOBO-sovellus kännykällä ja etsimällä sieltä hakutoiminnolla kyseinen rata. Kartan perusteella löydät radan lähtöpisteen, missä teet ensimmäinen leimauksen joko viivakoodin MOBO-sovelluksen QR-viivakoodiohjelmalla lukemalla tai NFC-tekniikalla (kosketat kännykällä rastimerkkiä).
Lue lisää!
Kempeleessä on todella paljon geokätköjä, joten hauskoja seikkailuja riittää pitkäksi aikaa – mitä parhainta perheen yhteistä tekemistä!
Geokätköily on maailmanlaajuinen ulkoiluharrastus, jossa etsitään satelliittipaikannusta hyödyntäen geokätköiksi kutsuttuja rasioita. Kätköjen piilotus sekä etsintä kuuluvat Suomessa jokamiehenoikeuksiin. Geokätköilyn aloittaminen on helppoa ja pääset alkuun ilman varustehankintoja, jos älypuhelimessasi on GPS-paikannus. Geokätköt listataan kansainvälisellä Geocaching.com -sivustolla. Tarvitset ilmaiseksi luotavan tunnuksen päästäksesi katsomaan kätköjen sijaintitietoja.
Lue lisää!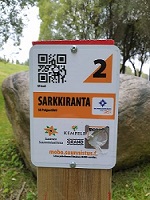 Padel on an outdoor court
On Voimatie road you can play padel on an outdoor court constructed by Flowtilat, and you can book the court using an internet calendar. You can also rent racquets and balls.
Padel is a new and fun sport that resembles squash and tennis and is always played in doubles. Padel is suitable for almost anyone, and it is a favourite of groups of friends or colleagues.
Contact:
Flowtilat
Voimatie 1, Kempele
info(at)flowtilat.fi
Phone: +358 (0)40 6631 000
Canoeing
Canoeing is an easy and fun way to move in nature and a great programme for groups! Botnia Outdoor and Leijakoulu Lappis organise canoe excursions, guidance and courses on Mourunkijärvi Lake and in Vihiluoto.
Book the activity for your group and come enjoy physical exercise by water!

Contact and book:
Botnia Outdoor
Phone: +358 (0)50 3707 111
info(at)botniaoutdoor.fi
or
Leijakoulu Lappis
Phone: +358 (0)41 4338 602
harri.rautava(at)lappis.fi
Picking wild herbs or doing gymnastics in the park
Are you looking for an outdoor activity for your group, such as wild herb picking or gymnastics, yoga or kettlebell exercise in the park?
Ask for a quote for your group from several service providers at one time!
Beach volley
In Kempele you can play beach volley in Köykkyri and in Vihiluoto. The Köykkyri court is in the recreational area with good parking facilities, a stair-climbing stairway, a football field and a disc golf course.

Address: Pyrinnöntie 5, Kempele

The Vihiluoto beach volley court is located on the seaside behind Vihiluodon Torppa. The court borders the beach and the seaside terrace of Vihiluodon Torppa.
Address: Torpankuja 16
SUP paddling
SUP or Stand Up Paddle boarding is a water sport suitable for everyone. In SUP you stand on a big surfboard, and the paddling is both a great exercise and fun. You can make the exercise more demanding by increasing speed or by paddling upstream.
Leijakoulu Lappis and Botnia Outdoor organise SUP safaris, guiding, paddleboard rentals and courses. You can also bring your group to try canoeing, gymnastics in the park or gathering of wild herbs!
Get in touch and come, enjoy the water in a novel way!

Contact and book:
Leijakoulu Lappis (Kiteschool Lappis)
Phone: +358 (0)41 433 8602
harri.rautava(at)lappis.fi
or
Botnia Outdoor
phone: +358 (0)50 3707111
info(at)botniaoutdoor.fi
Jet skis, quads and a hot tub on a trailer
Oulu Power Sport rents jet skis in Vihiluoto. You can rent four jet skis with wetsuits and waterproof GoPro cameras to capture the water sports! You can also rent a quad or a hot tub on a trailer – a jacuzzi on a terrace.
Contact and book:
Marina next to Vihiluodon Torppa
Torpankuja 16, Kempele
Phone: +358 (0)44 2972088 or +358 (0)40 7509073