Downhill skiing and snowboarding
Köykkyri ski area has the smallest downhill skiing slope in Finland.
There is one slope, snowpark, downhill skating slope and a ski lift and the area is very good for beginners or children with some skiing skills.The height of the slope is 25 meters and length 135 meters.
There are also very good cross-country skiing tracks in Köykkyri and routes for fat biking and good terrain for snowshoeing. The fat biking routes are not yet marked.
Kempeleen Pyrintö's cafe is open everytime when the slopes are open and you can buy tickets from the cafe.
Address: Pyrinnöntie 5, Kempele
Cross-country skiing
Köykkyri is the centre for cross-country skiing in Kempele. You can easily park your car and the hotel Forenom and Shopping Centre Zeppelin are nearby, as well as other services in Honkanen. The cafe in Köykkyri serves whenever the slopes are open.
Popular skiing routes are for example visiting Marjakammi where you can have snacks by open fire or if you prefer long route, Pertin lenkki is your choice.
Sarkkiranta sport area has also shorter circle route for cross-country skiing.
Snowmobiling
You can go straight to the national snowmobiling route from Kempele. Popular place to start the snowmobiling is Neste K Ouluntulli , which is a gas station with a nice restaurant. There is also snowmobile rental Kelkkasatama working in the same premises with Neste K Ouluntulli. When renting a snowmobile, you will also get driving equipment.
Kelkkasatama Address:Pohjantie 1457, Kempele
Tel +358(0) 45 7877 5413
Mountain biking and fatbike rentals
Birdwatching and activities for your meetings
Finlandia Hotel Airport Oulu is located by the sea in beautiful nature and waters rich in birds. The hotel customers can enjoy the nature, and you can enrich your meetings, birthday parties, stag or bachelorette parties with guided nature activities.
Try birdwatching competitions or traditional Finnish sports, playfully of course.

Learn more and refresh your party with fun activities!
Contact:
Vihiluoto 10, Kempele
Phone: +358 (0)8 514 5100
sales(at)airporthotel.fi
Activities for wellbeing
Easymove produces versatile activities for wellbeing at work, for recreation days, and for groups celebrating birthdays, stag or bachelorette parties. You have a wide choice of activities, from exercising in nature to body composition analyses, from indoor sports to party nights. Full service!
Contact Easymove and check out the packages. On the Easymove website you can also find price examples of various programs for groups of 10 persons.

Experience the best moments of your life!
Contact:
Pekurintie 2, Zemppi House, Kempele
Phone: +358 (0)50 472 2714
yritykset(at)easymove.fi
Marjakammi - open fire hut in the nature
Kempele has wonderful nature to enjoy outdoors. At Marjakammi open fire hut you can prepare a meal and have a break while walking, fat biking, snowmobiling or skiing in the nature. Skiing track called Pertin lenkki is coming to Marjakammi. Also in the autumn, you can collect berries or mushrooms from the forest.
Marjakammi on the map laavu.org and retkikartta.fi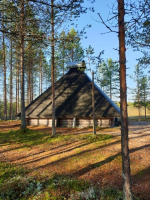 Alpaca walking in the nature
The Linnunrata farm on Juurussuo in Kempele raises alpacas in the wonderful countryside near Mourunkijärvi Lake. The Linnunrata farm also grows hemp oil plants in Tyrnävä, and you can buy food and natural cosmetics made with the hemp oil at the farm.
The Linnunrata farm works all year round, and groups can order alpaca walking or coffee service or hemp smoothies for snacks. In the summer, you can also try alpaca agility.
Visits on the alpaca farm are well suited for children, because alpacas are very calm animals and the rural surroundings are perfect for groups of children to visit.
Welcome to fall in love with alpacas!
Contact:
Mourungintie 217
Tel.+358 (0)40 8314845
info(at)linnunradantila.fi
Riding
Rajakorpi Ranch offers training courses based on the ideology of Western riding, riding lessons, camps and courses. The ranch is in Rajakorpi in Kempele.
The Rajakorpi Ranch has renovated ample space for accommodation, the stables have room for 26 horses, there is riding field, riding ring and a manege. The ranch also provides a place to spend the night if you are travelling with your horse.

Welcome to explore the world of Western riding!
Contact:
Rajakorventie 203, Kempele
Phone: +358 (0)40 571 2516
anna.porola(at)gmail.com